Welcome to the 2009
National Corvette Museum



Welcome to my pages for my 2009 National Corvette Museum. I drove to Bowling Green, Kentucky on Friday morning March 6th. The day was overcast, as you can tell from the outside pictures. There was a lot of remodelling going on inside the museum; it should really look sharp once they are completed. The lighting was very subdued so it made taking pictures particularly challenging. I will have to plan my trip better next time. While I was there the tour of the Corvette factory was suspended. The next time I go I'll have to make sure the tour is taking place! Without further ado, here are some pictures that I took in the museum along with a short description of some of the cars.

Click a picture to open it in a new window.
---
Signs and flags from the front of the museum
Displays in the museum
"You are here"
Zora Duntov's Racing
Equipment
Corvette Emblems thru
the Generations
1953 Corvette Roadster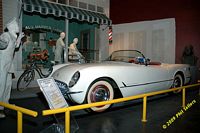 Zora Duntov's 1974 Corvette Stingray. According to the fact sheet "This medium blue 454 automatic, is fully loaded from Corvette's option list...Zora had the custom paint added to the car and made numerous modifications to enhance the car's performance. The wheels of this car were prototypes and did not make the Corvette option list until 1976."
1956 Corvette Convertible
This 1956 Convertible was #336 of 660 "First Design" cars. The car features power top, power windows, Powerglide automatic transmission, and a 225 hp/ 265 cid engine. The car underwent a frame-off restoration that took 6 years to complete. This car was featured "...as the representative for the model year 1956 at the 50th anniversay "Evolution Display" at Corvettes at Carlisle in 2003"
This car features soft ray tinted glass, power brakes, 300hp/327 cid engine, 4-speed manual transmission, and cast aluminum knock-off wheels. This car had a complete frame-off restoration in 1992 and since then has only logged 77 miles.
1972 LT1 Corvette Convertible
This car features a convertible top with auxiliary hardtop, 4-season air conditioning (one of only 18 1972 LT1s so equipped), power brakes and steering, 255hp/350 cid engine, tilt-telescopic steering wheel, and custom wheel covers. This car has 18,989 actual miles.
Corvette test car that has been on the track at Nurburgring.
This car features a factory chassis with modifications, carbon fiber body, factory drive train and 5.7L engine. This car was built prior to the first C5 race car. "This was built as a prototype and taken before the ACO (Automobile Competition Organization) for its approval for the building and racing of the C5 race car.
| | |
| --- | --- |
| | |
| | |
| --- | --- |
| | |
| | |
| --- | --- |
| | |
"This Corvette was the only Corvette raced at Sebring that was not only driven by Sebring residents but, was actually built at the Sebring race track by residence (sic) of Sebring...this Corvette ran the larget displacement engine at 454CI (7.440L) of any car that raced at Sebring...After several years under the supervision of Keller the Corvette had its body converted to a Greenwood wide body configuration...In 1990 Keller sold the Corvette to Tom Curren, Orlando, FL who campaigned the car in its Greenwood wide body form in the early 1990s...Brooks completely went through the entire car upgrading its frame, engine, suspension, wheels, tires, brakes, transmission and all other drive train components, interior, gauges, safety sytems to current high performance racing technology. He has re-con figured (sic) the body back to its original L88 Corvette racing body style and in doing so all body components have been brought up to ultra light high performance racing standards."
Pirate Racing; 1995 (?) ZR-1
Corvette Pace Cars
This car is from the collection of Reggie Jackson and has 78 actual miles. The car features 2-tone black over silver with special decals. The options include power windows & locks, removable T-roofs, tilt/telescopic steering wheel, AM/FM 8-track, aluminum wheels and convenience group.
2004 Indy Pace Car Replica
This is the one and only authorized replica. This car features the memory package, automatic transmission, 350HP/5.7L 346CID engine, auto dimming mirrors, magnetic selective ride control, and Delco stereo casseette with remote 12-disc changer. This car has been painted and striped to match the original pace car and when placed alongside an original pace car "...no visual diffrences..." can be detected.
2005 Indy Pace Car Replica
This is one of only two authorized replicas. This is #5 of the 2005 Corvette (Indianapolis 500/Brickyard 400) Festival Cars.
2004 Daytona 500 Pace Car
This car features an LS1 350HP/ 5.7L 346CID engine, automatic transmission, heads-up display, and power-telescopic steering wheel. "This is the original car that paced the Daytona 500 on February 19, 2004. Dale Earnhardt, Jr. won NASCAR's biggest annaul event...barreling past Tony Stweart with 20 laps left..."
2007 Indy Pace Car Replica
This car features the 3LT Preferred Equipment Group, AM/FM stereo, CD, DVD, NAV, Z51 Performance Handling Package, special split spoke wheels, and Z06-style Atomic Orange spoiler. "2007 was the ninth time the Corvette paced an Indy 500 race. It was the 18th time overall Chevrolet led the race. It's the first time since 1998 that Chevy offered a regular production replica of the Indy 500 Pace Car...The performance-bred Corvette handled its offical pace duties in nearly factory-stock trim, with little more than racetrack-required safety equipment, strobe lights...The 2007 Corvette's powertrain and suspension, including a 400-horsepower LS2 small-block V-8 engine..."
1992 - One Millionth Corvette
This car features LT1 5.7L V8, pass-key theft deterrent system, 4-speed automatic transmission, fuel injection, anti-lock brake system, 4-wheel independent suspension, and a 5-link independent rear suspension. "The 1,000,000th Corvette was built at about 2:00 p.m. on July 2, 1992 at the Corvette Assembly Plant, Bowling Green, KY. Like the very first Corvette in 1953, the 1,000,000th is a white convertible with red interior."
2008 427 Z06 "Wil Cooksey" Edition
The features on this car include Crystal Red tintcoat exterior paint with stinger-style graphics and 427 hood badges, exclusive, new chrome wheels, exclusive dark titanium custom leather-wrapped interior, special Crystal Red interior trim plate graphic pattern, "427"-embroidered seats and floor mats, and Z06 sill plates. "The 427 limited edition Z06 joins the Indy 500 Pace Car Replica...as the second limited-production Corvette model introduced for 2008..."
This car features a 400HP/427CID engine, 4-speed transmission, custom shoulder belts, auxiliary hardtop, air conditioning, side-mount exhaust system, tilt-telescopic steering column, and AM-FM radio. "The wheels on this car did not actually come on the car from the plant...4 Corvettes left the assembly plant with the American Mags...finally found them and had them refurbished. The only documented 1969 LT1 sold under warranty with these wheels was sold by Clippinger Chevrolet, Covina, Ca...the first 1969 Corvette to be produced with the side-mounted exhaust system."
This car features power windows, 330HP/350CID V8, tilt-telescopic steering wheel, and AM/FM pushbutton stereo radio. "The 1971 Corvette was one of the least-changed models in appearance. A labor dispute in May 1969 caused 1969 production to run long, shortening normal 1970 production by over four months. Chevrolet then treated 1971 Corvette production as an extension of 1970. Plus, GM directed its division to reduce octane requirements in 1971 engines, an effort which carried a higher priority than appearance chagnes.

The 1971 Corvette was the last model to feature the fiber-optics light monitoring system, although late production 1971s may be missng the fiber optics. The cost savings permitted inclusion of the previously optional antitheft alarm system as standard equipment on the 1972 model year.
This car features twin turbos, a 345HP engine, a top speed of 177.9 MPH, and a manual transmission. "The Callaway twin-turbo engine package introduced in 1987 was not a factory-installed opton, but could be ordered through participating Chevrolet dealers as RPO B2K. The Corvettes were fully assembled at the Corvette Assembly Plant, and shipped to Callaway Engineering in Old Lyme, CT for engine and other modifications. The first four 1987 Callaways used replacement LF5 (truck) shortblocks, but subsequent cars had reworked production Corvette engines. All 1987 Callaways had manual transmissions and none were certified for California sale. Of 184 twin-turbos built in 1987, 121 were coupes and 63 were convertibles."
Military Tribute Corvette
---
Last Updated: November 10, 2011
Updates to this page:
November 10, 2011 - updated page layout
June 4, 2009 - updated page layout
March 17, 2009 - updated links, corrected spelling, and formatted comments
March 16, 2009 - added pictures, links, and comments
March 15, 2009 - added pictures and comments
March 10, 2009 - created web page


Questions or comments?
All content and images © Copyright 2009 - 2011 Phil Sellers