Welcome to my 2009 Grand Ole Opry page


Welcome to my page for the Grand Ole Opry. I was at the Opry House on Saturday, March 7th. I went by early in the afternoon to pick up my ticket from "Will Call". While there I decided to buy a ticket for the Back Stage Tour at 4:00. The tour lasted for about an hour and is really worth taking if you ever have the opportunity. Afterwards, I wandered around the courtyard for about an hour until the doors opend at 6:00 for the show starting at 7:00.
This was my first visit to the Opry, but it sure won't be my last. Below are pictures from the show with additional comments.
Click on a thumbnail to open the picture in a new window.
Grand Ole Opry House - afternoon
These are some pictures of the Opry House during the afternoon.
This is the marquee with upcoming artists. Carrie Underwood and Josh Turner are the last two on the top row.
| | |
| --- | --- |
| The backdrop to the stage | The circle is from the stage floor from the Ryman Auditorium. Thirty-one years of history stood here. The women in the circle were celebrating their birthday. The rest of the tour got to sing "Happy Birthday" to them. So yes, I have sung on the stage of the Grand Ole Opry! :) |

The auditorium as seen from the stage.
These are pews from the Ryman. They are at the back of the stage for family and friends of the performers.

Backstage at the Opry
Picture of Minnie Pearl at the artists entrance back stage
The Grand Ole Opry Post Office
Dressing Room Number 1, for Mr. Roy Acuff

Entertainers/Greeters
before the show

"Minnie Pearl"

"Little" Jimmy Dickens

Jimmy C. Newman
Cajun/Zydeco Music

Jim Ed Brown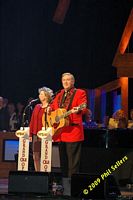 Mike Snider

Jean Shepard

Bobby Osborne &
The Rocky Top X-Press

Ray Price

Jack Greene
Carrie's birthday is March 10th; you see a couple of the presents she received during her performance.

Grand Ole Opry - at night
---
Last Updated: February 6, 2012
Updates to this page:
February 6, 2012 - updated page layout
June 5, 2009 - updated page layout
March 17, 2009 - updated html code, updated links on page
March 13, 2009 - added comments and pictures to page
March 12, 2009 - added comments and pictures to page
March 11, 2009 - added comments and pictures to page
March 10, 2009 - created web page


Questions or comments?
All content and images © Copyright 2009 - 2011 Phil Sellers